Over the last few years a phrase I've come to love has gained a lot of popularity: #girlcrush. I've come to love this expression because it perfectly embodies my thoughts and feelings for so many women I admire. The phrase has somehow transcended the meaning of both its parts, because of course the "girls" I admire are actually strong, powerful women, and of course by "crush" I speak not of puppy love, but a deep respect that carries with it an emotional connection. 
In 2018 we quietly compiled a list of 100 influential women we admired, and sent them a care package of some of our favorite lipsticks. We did it without fanfare and with no expectation that any of the women reach back out or do anything on our behalf. When the thank you notes and tweets started rolling in we were ecstatic, but all we really wanted was to play a small role in making their day - and their beauty journey - a little more special.
This year our team had bigger plans. They loved treating these women to a special gift, but wanted to do more. They wanted to honor them on our blog, our mailing list, and all of our social channels. They wanted the conversation to extend beyond the award list and into partnerships. Most importantly, they wanted to turn our super-secret admiration into a full-on public love affair, and when you look at the things these amazing women have accomplished it's not hard to see why.
From Ursula Burns, the first African-American woman to lead an S&P 500 company, to Eva Chen, Instagram's first head of fashion partnerships, to Nina Davuluri, an acclaimed host, speaker and ardent advocate and the first Indian American and South Asian to become Miss America: these women deserve to have their names and accomplishments shouted from the rooftops.
We hope you'll join us in celebrating these powerhouses, and maybe gain some inspiration along the way. We certainly have.
With lipstick and love,
Co-Founder and CEO, Mented
Poet and Author
Elizabeth Acevedo is the author of the New York Times' bestselling young adult novels The Poet X and With the Fire on High. She is the winner of the 2018 National Book Award for Young People's Literature, the 2018 Michael L. Printz Award, the 2018 Pura Belpre Award, and the Boston-Globe Hornbook Award Prize for Best Children's Fiction of 2018. She is a National Poetry Slam Champion and has been honored with the 2019 Pure Belpré Author Award for celebrating, affirming, and portraying Latinx culture and experience.

Girl Scouts of USA
Chief Executive Officer
Sylvia Acevedo is an award-winning entrepreneur who has earned worldwide recognition for her work in universal access to education. She is currently the CEO for the Girl Scouts of the United States and serves as a Commissioner on the White House Initiative for Educational Excellence for Hispanics. She's run several successful campaigns to address the health disparities and lack of available books for children in underserved populations. As a result, Sylvia has been recognized by the US Army and the White House for her contributions.

IMG Models
American Fashion Model, Miss Minnesota USA 2016
Halima is a woman of firsts. In 2016, she caught our attention when she was the first to wear a hijab in the Miss Minnesota USA pageant. She also became the first muslim woman to wear a hijab and burkini in Sports Illustrated expanding the traditional definition of beauty.

Droga5
Senior Copywriter
Nedal has won awards and helped shape the cultural conversation in 2018. Her work includes a powerful U.S. Open ad for Chase in which Serena Williams explores her duality as a mother and athlete and an anti-smoking campaign for CVS, #OneGoodReason, which was praised by Michelle Obama. She has received an Emmy for Outstanding Commercial and been recognized at Cannes, amongst a slew of other accolades, for her stellar work.

Belo Medical Group
Dermatologist, Television Personality
Dr. Victoria Belo is a renowned dermatologist and doctor known for pioneering the skincare, laser, and liposuction industry in the Philippines. Today, she is the President and Medical Director of the country's most trusted beauty empire which currently operates 12 clinics.

Hindustan Times Group
Chairperson and Editorial Director
Shobhana Bhartia inherited the Hindustan Times Media, India's major newspaper and media house, from her father and joined the business in 1986. At the time of joining she became one of the youngest and the first woman chief executive of a national newspaper. Shobhana also served as a nominated member of the Rajya Sabha, the upper chamber of the Indian parliament from 2006 to 2012.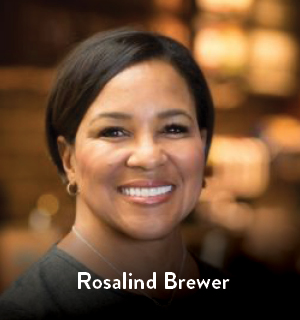 Starbucks
Chief Operating Officer
She became the first woman and the first African-American to fill the role of CEO at one of Wal-Mart Stores' divisions, Sam's Club. Rosalind is considered one of corporate America's most prominent women and black female executives, according to USA Today. She currently holds the position of Chief Operating Officer for Starbucks.

MIT Media Lab
Computer Scientist & Digital Activist
Joy is a Ghanaian-American computer scientist and digital activist based at the MIT Media Lab. She founded the Algorithmic Justice League to create a world with more ethical and inclusive technology.

Girls for Gender Equity
Senior Director and Activist
Tarana Burke is a civil rights activist and the original founder of the #MeToo movement. Throughout the years, Tarana raised awareness by organizing, Just Be Inc., focused on health and well-being for young women of color and consulting on the oscar-nominated film, Selma. Currently, she is the senior director at Girls for Gender Equity, a non-profit organization that is committed to the education, physical, psychological, social and economic development of girls and women. In 2017, Time magazine named Tarana and fellow female activists "the silence breakers". Burke is the recipient of the VOTY (Voices of the Year) Catalyst Award from SheKnows Media and received an Honorary Doctor of Humane Letters at Brooklyn College in 2019.

VEON
Chairman & Chief Executive Officer
In 2007 Burns became the president of Xerox and in 2009 she not only became the Chief Executive Officer but also the first African American woman to lead a Fortune 500 company. To top off her many successes, she was named by President Barack Obama, in November 2009, to help lead the White House program on STEM (Science, Technology, Engineering and Math).

Discovr Labs
Co-Founder and Chief Operating Officer
After finishing high school in three years, Gemma is co-founder and full-time head of operations for Discovr Labs, a creator of virtual reality (VR) learning experiences for K-12, colleges, and professional training schools. Discovr Labs was named one of the top 10 Virtual Reality companies by LAUNCH and has been featured in TechCrunch.

Spelman College
President
Mary began her career in New York as executive director of the Studio Museum in Harlem, the country's first accredited Black fine arts museum. She served for over two decades as dean of New York University's Tisch School of the Arts, before ascending to her role as the 10th president of Spelman College. Melanie L. Campbell is president and CEO of the National Coalition on Black Civic Participation and convener of the Black Women's Roundtable Public Policy Network. One of her most rewarding accomplishments at the National Coalition has been creating an innovative, youth-focused leadership development program, Black Youth Vote! (BYV), for which she received the Congressional Black Caucus Foundation's Emerging Leaders Legacy Award.

National Coalition on Black Civic Participation
President and Chief Executive Officer
Melanie L. Campbell is president and CEO of the National Coalition on Black Civic Participation and convener of the Black Women's Roundtable Public Policy Network. She has been recognized as one of the hardest working leaders in the social justice movement and has fought for civil, youth, and women's rights for over 20 years. One of her most rewarding accomplishments at the National Coalition has been creating an innovative, youth-focused leadership development program, Black Youth Vote! (BYV), for which she received the Congressional Black Caucus Foundation's Emerging Leaders Legacy Award.

Costume Designer
Some audiences may have been introduced to Ruth E. Carter by way of Black Panther, but she has been a staple in Black Hollywood for decades. Ruth E. Carter began her costume career with the iconic Spike Lee movie, School Daze. Carter has designed for more historic African American films and television series than any of her Hollywood peers. She is known for the incredible costume design in works like Malcolm X, Amistad, The Butler, SELMA, and Marshall.

Rutgers University
Figurative Painter, Assistant Professor of Painting
Jordan is an American figurative painter known for her portraits depicting black men. Her artwork is meant to empower and transform the negative representations often seen in the larger culture. Her artwork has been included in public collections like The Studio Museum in Harlem, MOCA, The Ford Foundation, Iris & B. Gerald Cantor Center for Visual Arts, and the Denver Art Museum. She is also an Assistant Professor of Painting in the Department of Arts, Culture, and Media at Rutgers University.

Instagram
Head of Global Music & Youth Culture Communications
Shavone is known to her peers and the surrounding tech and entertainment industries as being a renaissance woman and connoisseur of culture. While working at Twitter she coordinated partnerships with well-known musicians including JAY-Z's first Twitter Q&A and built direct-to-fan campaigns with Big Sean, J. Cole, and Ludacris. She created Instagram's first-ever Black History Month program initiatives and recently became the founder of a passion project, Magic in Her Melanin.

Canaan Partners
Principal
Laura leads investments in early-stage consumer tech companies. Before VC, she was one of the first 20 employees at mobile gaming startup Kabam, which was acquired in 2017 for $800 million. She joined Canaan in 2014 from Deloitte, where she advised some of the world's largest firms on growth strategy and M&A.

Instagram
Director of Fashion Partnerships, Children's Book Author
In 2005, Eva moved on to Teen Vogue, where she worked in various roles for eight years, chiefly as the teenage fashion magazine's beauty editor. In April 2013, Anna Wintour chose Eva to be Editor-in-Chief of Lucky Magazine. In 2015 Eva announced her new appointment as Instagram's inaugural head of fashion partnerships where she helps the fashion community tell their Instagram story better.

Sandbox Semiconductor Inc.
Chief Executive Officer
Meghali Chopra is the chief executive of SandBox Semiconductor Inc., which aims to solve a bottleneck in semiconductor manufacturing: the long development cycles necessary to create new chips. The brand emerged in 2017 from the Student Entrepreneur Acceleration and Launch program at the IC2 Institute's Austin Technology Incubator, which is part of UT.

Cisneros Group of Companies
Chief Executive Officer
Adriana Cisneros is CEO of Cisneros, a third generation family owned and operated business with a global footprint and operations in Latin America and the United States. The company has three areas of focus: Media, Interactive and Real Estate. She has also committed herself to improving education by also being the President of the Fundación Cisneros, a not-for-profit organization, dedicated to improving access to education in Latin America.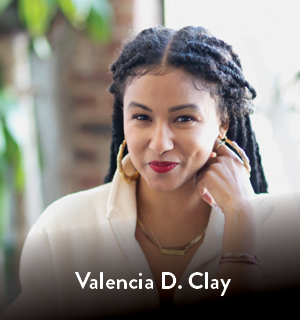 Baltimore Design School
Teacher
Valencia has taught in public schools for the past 10 years with a commitment to expanding opportunities for students and educators in urban school districts. Clay uses her social platform not only to bring attention to restore heat to schools but also showcase taking her students on walking tours through their city to show them the brand new jails being built instead of education centers. Clay is also an author and co-founder of The Flourishing Blossoms Society for Girls Inc., a support network for young girls from urban areas, with a mission to mentor and provide service opportunities. She has been named a 2019 National Geographic Education Fellow.

American Ballet Theatre
Principal Ballet Dancer
Misty Copeland is the first African-American performer appointed as a principal dancer for the American Ballet Theatre. Studying ballet since a teenager, Misty joined ABT in 2007. She was promoted to principal dancer and has since been featured in numerous publications, television programs, and worked on many charitable organizations mentoring young girls and boys. In 2014, President Obama appointed Misty to the President's Council on Fitness, Sports, and Nutrition. She is also the author of the NY Times Bestselling memoir, Life in Motion.

The Institute for College Access & Success
Program and Operations Coordinator
Neha is a first-generation Indian American who completed her bachelors and masters in applied mathematics, economics, and education from Harvard at age 20. She has taken on many different roles in education: federal policy development in the Obama and Trump White Houses, senior and founding roles in multiple education-related nonprofits, volunteer teaching and mentoring in seven countries, education-related economics research at Harvard, and organizing and representing youth in a variety of capacities. Neha has been recognized nationally and internationally for her work advising city officials in the US and China on youth civic engagement. As the vice-chair of the U.S. National Commission for UNESCO Youth Working Group, she creates opportunities for young people to impact the world around them.

NBC Universal
VP Environmental Affairs, Chief Sustainability Officer
Susan is actively involved in Comcast's diversity efforts, particularly as it relates to the Company's relationship with the Asian American community. In 2011, Susan helped negotiate a historic Memorandum of Understanding between Comcast and the Asian American community that created groundbreaking commitments in programming, supplier and employment diversity, and community investment. She has been recognized several times for her accomplishments in media with over 25 years of experience as one of the "Top 50 Most Influential Minorities in Cable" by CableWorld and received a NAMIC Luminary Award.

Host, Advocate, Miss America 2014
In 2014, Nina made history as the first Indian-American and South Asian woman to become Miss America. She is an acclaimed host, speaker and ardent advocate recognized for her efforts by former President Barack Obama and First Lady Michelle Obama. Nina is currently working on a documentary called COMPLEXion. The focus is on unpacking the hegemony of fair skin, and the pernicious influence the skin lightening industry has globally. The concept and teaser have been accepted to present at the Venice Film Festival in September of this year.

Blavity
Co-Founder and Chief Executive Officer
Blavity, a website created by and for black millennials, was created by Morgan and her co-founders in 2014. Along with building a team of over 70 employees, the media company acquired Travel Noire, a travel platform for black millennials and Shadow And Act, a black entertainment news site. Morgan DeBaun launched several summits including Summit21 for black women and San Francisco's Afrotech for black people in technology. She is also the founder of M.Roze Essentials, a skincare and lifestyle line designed for black women.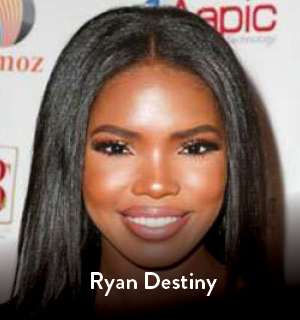 Singer, Actress
Ryan Destiny Irons is an American singer and actress. She is best known for her role in the TV drama Star. She rose to fame as a member of the girl-group, Love Dollhouse.

Activist, Author
She's an author, public speaker, and on the Forbes "30 under 30" list all before she's attended high school. At 10 years old, Marley was frustrated with the lack of black girls or girls of color in the books she was reading. She decided to launch a campaign, #1000BlackGirlBooks campaign, to collect books with characters who looked like her. Marley set out to collect only 1,000 books but was met with a much larger response. Marley has since become an author herself, "Marley Dias Gets it Done: And So Can You!", a tale she hopes will inspire others to become activists.

Dallas Wings
Point-Guard
Skylar is currently playing the point guard for the Dallas Wings of Women's National Basketball Association (WNBA) since her debut in 2013. Skylar is also a five-time USA Basketball gold medalist, two time WNBA All-Star starter, 2014 WNBA Most Improved Player, 2015 ESPY Winner, and a four-time college All-American. She currently sits on the GenYouth Board of Directors and recognizes outstanding teens through her Skylar's Scholars program, a program that highlights the academic achievements of youth who have overcome challenges or worked to reach a goal or milestone.

University of Virginia
Professor, Poet & Essayist
Rita Dove served as Poet Laureate Consultant in Poetry to the Library of Congress. She is the first African American to have been appointed since the position was created by an act of Congress in 1986.

North Carolina Courage
Forward
From New York Gatorade Player of the Year award, 2012 NCAA Championship with UNC, winner of the prestigious Hermann Trophy to 2012 winner of the FIFA Under-20 Women's World Cup, Crystal Dunn has been winning prestigious awards for her athleticism on the soccer field since high school. To top it off in 2016 she represented the United States in the Rio Olympics where she received the CONCACAF Women's Olympic Qualifying Tournament Golden Boot Award.

Activision Blizzard
Commissioner of Call of Duty e-sports
Johanna Faries heads Activision Blizzard's second major esports league, built around Call of Duty, a mega-popular first-person-shooter video game. For context, this game claims to have "generated more revenue than the Marvel Cinematic Universe in the box office, and double that of the cumulative box office of Star Wars" according to their press release as the start of the year.

Digitalundivided
Founder & Chief Executive Officer
Kathryn Finney co-founded digitalundivided in 2012, the first incubator for Black and Latinx women. Since 2013, digitalundivided has impacted over 2,000 people, helped build 52 companies, and helped raise $25MM in investments. Kathryn has been honored by the Obama Administration with White House Champion of Change Award and is a former member of the U.S. Chamber of Commerce's National Advisory Council on Innovation and Entrepreneurship (NACIE).

Writer, Podcaster, Educator
Very early on, Ashley C. Ford knew she wanted to be a storyteller. She has written for The Guardian, ELLE, BuzzFeed, OUT Magazine, Slate, Teen Vogue, and New York Magazine, to name a few. She's taught creative nonfiction writing at The New School and Catapult.Co, and had her work listed among Longform & Longread's Best of 2017. She's currently writing her memoir, Somebody's Daughter, which will be published by Flatiron Books under the imprint An Oprah Book.

Vocalist, Composer, 2019 Miss America
Nia Imani Franklin is a vocalist, composer, arts advocate, and 2019 Miss America winner. Nia works with Sing for Hope, a nonprofit organization focused on creating a better world through the power of music.

JCPenney
SVP of Home Product Development & Design
Laurene Gandolfo brings 35+ years of varied retail experience to JCPenney with over 21 years specializing in the home area at Macy's and Bloomingdale's. She is a passionate advocate of diversity, business mentorship, and women's leadership featured in Fortune's 50 Most Powerful Latinas list.

Bill and Melinda Gates Foundation
Director of Global Program Advocacy & Communications
Currently, Gargee leads three teams at the Bill and Melinda Gates Foundation: the Global Program Advocacy & Communications, Development Policy & Finance, and Strategy Office. She leads the foundation's international policy team that supports ideas and innovations in policymaking—at global and national levels—to advance human development progress and address extreme poverty. She previously served a two-year term on President Obama's Global Development Council.

Lively
Founder & Chief Executive Officer
Michelle Cordeiro Grant has created a new league of bras that are community-driven, embrace diversity and curves, and celebrate a different kind of sexy: one that's not focused on the male gaze. Lively currently has 65,000 ambassadors throughout the world, who promote the brand. In exchange, Lively creates events around those ambassador's interests. The lifestyle brand is now backed by more than $15 million in capital funding.

Morehouse School of Medicine
Physicist
Dr. Green dedicated her life to fighting cancer. Dr. Green specializes in developing targeted cancer therapies using lasers and nanoparticles. Her expertise lies at the intersection of nanotechnology, immunotherapy, and precision medicine. She is noted for the development of several patent-pending cancer treatments that have had no observable side effects in laboratory mice, which is a preliminary study to testing with human subjects. Dr. Green was awarded a $1.1 million grant in 2016 to develop her patent-pending procedure that uses lasers to target cancer cells as an alternative to chemotherapy and radiation. Beyond her academic role, she founded a 501(c)(3) non-profit organization, Ora Lee Smith Cancer Research Foundation (www.WeAreOraLee.org). She is currently an Assistant Professor at Morehouse School of Medicine in the Department of Surgery.

Writer
Chanté Griffin is a writer and entertainer. Chanté creates socially-conscious and soul-conscious art that focuses on the intersection of race, culture, and faith. A contributing writer for Faithfully Magazine, she has written for The Washington Post, The Huffington Post, EBONY, The L.A. Times, The Root, and others. She is the creator of YouTube's "Black History Firsts Gone Bad," and she blogs at Beneath The Surface: Race, Culture, Christ.

Gossamer Bio
Co-Founder, President and Chief Operating Officer
Dr. Sheila Gujrathi is Co-founder, president and CEO of Gossamer Bio, a new biopharmaceutical company focused on the discovery and development of novel and differentiated therapeutic products to address high unmet needs of targeted patient populations in immunology, inflammation, fibrosis and oncology.

New York Times
Director, Brand Strategy and Marketing
Sabena Gupta helps mission-driven brands tell their story and communicate more effectively. Since she began at the New York Times, she has helped develop marketing for product launches including the Modern Love podcast, "The Truth Is Hard" and "The Truth Has a Voice" campaigns which debuted at the 2017 Oscars and 2018 Golden Globes, respectively.

Team USA
Gymnast
Laurie landed a spot on the 2016 U.S. Olympic Gymnastics team and is one of only a handful of Latinas to represent the U.S. since 1936. At the Summer Games in Rio, she won team gold as the youngest member of the U.S. women's gymnastics team, nicknamed "The Final Five," and a silver medal in the individualSandBox Semiconductor emerged in 2017 from the Student Entrepreneur Acceleration and Launch program at the IC2 Institute's Austin Technology Incubator, which is part of UT. balance beam event. At age 16, Laurie became the youngest celebrity to win "Dancing with the Stars."

US Government
Senator
Mazie K. Hirono is the first elected female senator from Hawaii, the first Asian-American woman elected to the Senate, the first U.S. senator born in Japan, and the nation's first Buddhist senator. She was elected to the U.S Senate in 2012 and has been a leading voice for immigration policies that keep families together, healthcare, and increasing access to quality and affordable education.

Evereden
Co-Founder and Chief Executive Officer
She saw a need for safe, natural products and decided to fill it herself by starting Evereden, a direct-to-consumer non-toxic skincare line for children. Unlike other skincare brands, Evereden has zero-tolerance for toxins, harmful, or even questionable ingredients. Since launching in March 2018, Kimberley, a Malaysian immigrant, has raised $2 million and offers six core products that aim to create a new standard on caring for children's skin.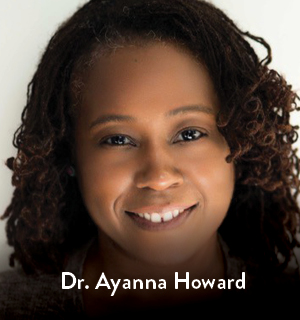 Zyrobotics
Co-Founder and Chief Technology Officer
She has over 20 years of research and development experience supported by various agencies including NASA, ExxonMobil, and Procter and Gamble. Dr. Howard founded Zyrobotics in 2013 to create technology that will enhance the quality of life for children. Serving as Chief Technology Officer, Dr. Howard has helped to develop advancements in artificial intelligence, assistive technologies, and robotics. Her unique accomplishments have been highlighted in Time Magazine, Black Enterprise, and USA Today. She has also been recognized as one of the 23 most powerful women engineers in the world by Business Insider and one of the Top 50 U.S. Women in Tech by Forbes.

CNN en Español
Senior Vice President and Managing Director
Cynthia was executive producer of the first U.S. Hispanic daytime magazine show, TV Mujer, which garnered Univision its first Emmy award for ongoing series production. In 2010, Hudson moved to CNN en Español where she's taken the network from a standard 24/7 headline service to three networks covering the U.S., Mexico and Latin America with a robust digital and social media presence. Cynthia has been recognized with several Emmys and continues to be a champion of multicultural awareness in the media and entertainment industries.

Actress
Actress Carly Hughes can currently be seen making audiences laugh each week as Angela on ABC's hit sitcom, American Housewife. She has appeared in eight Broadway shows including Beautiful: The Carole King Musical, Pippin, and Chicago. She is also known for her work on HBO's Curb Your Enthusiasm and the Netflix series Insatiable. She won the 2003 Princess Grace Award for Acting and Excellence in the Arts and 2015 Grammy for Best Musical Theater Album.

LPGA
Professional Golfer
Chun In-gee, also known as In Gee Chun, is a South Korean professional golfer. She shocked the golf world in 2016 with her 21 under par victory at the Evian Championship which is the lowest winning score in men's or women's golf history. In 2015, In Gee Chun became the first player to win majors on three worldwide tours. She's the only other player in LPGA history whose first two wins on tour were major championships in a calendar year.

Actress, Television & Radio Presenter, Model, Activist
Jameela Jamil is a British television and radio presenter, model, and actress known for being the star of NBC's "The Good Place." Jameela is also an activist for body positivity and advocates for therapy as a way to move past the stigma of shame. Late in 2015, Jamil launched Why Not People, an events and memberships company dedicated to hosting live entertainment events accessible to disabled people.

Restaurant Opportunities Centers United (ROC United) & Food Labor Research Center
Co-Founder and President, Director
After 9/11, together with displaced World Trade Center workers, Saru co-founded ROC, which now has more than 18,000 worker members, 200 employer partners, and several thousand consumer members in a dozen states nationwide. She was listed in CNN's "Top10 Visionary Women" and recognized as a Champion of Change by the White House in 2014, and the James Beard Foundation Leadership Award in 2015. Saru authored Behind the Kitchen Door, a national bestseller, and her most recent book, Forked: A New Standard for American Dining, has received widespread press coverage and acclaim.

Cherry Blossom Intimates
Co-Founder and Chief Operating Officer
Inspired by her grandmother's struggle to find appropriate intimate wear, post her mastectomy, Jasmine founded the first-of-its-kind breast health facility and bra boutique in Prince George's County, Maryland. Cherry Blossom Intimates cater to women in the throes of battling breast cancer, as well as its survivors. Ms. Jones was named Miss District of Columbia USA 2016 and is the founder of The Global Literacy Initiative, an organization meant to ensure all children have access to their local library and have books readily available in their homes.

Vanity Fair
Editor in Chief
Radhika Jones has been an arts editor at The Moscow Times, a managing director of The Paris Review and oversaw the Time's most high-profile news and entertainment franchises: the Person of the Year and the Time 100. But Radhika standouts as the first person of color and the second woman to be named Editor in Chief at Vanity Fair since its founding in 1913.

Lyft
Area VP of Social Enterprise
Veronica is committed to solving the transportation challenges of non-profit and social service organizations. She's been named one of Fast Company's "Most Creative People in Business" and serves on the board of Movimiento de Arte y Cultura Latino Americana (MACLA), a contemporary Latino arts organization in Silicon Valley, and is an advisor to VamosVentures, a venture capital fund dedicated to supporting Latinx entrepreneurs.

Classpass
Founder and Executive Chairman
Payal started ClassPass, the subscription-based service that lets users find and book fitness classes online, in 2011 out of her love for dance. Today, ClassPass is operating in more than 20 countries and worth more than $600 million. Before founding ClassPass, Payal worked as a consultant at Bain & Company and in Warner Music Group's Digital Strategy and Business Development Group. Payal also founded a contemporary Indian dance company called The Sa Dance Company. She's been featured in Fortune, Huffington Post, INC Magazine, and Business Insider.

Google
HBCU Specialist, Tech Student Outreach
Jana K. Landon joined the tech giant, Google, after graduating from Dartmouth, and she now manages a program that helps develop tech talent at historically black colleges and universities. In just a few years, Jana has significantly increased the recruitment of underrepresented groups at Google.

United Talent Agency
Talent Agent
Alyssa got started working in United Talent Agency's mailroom after graduating from Wesleyan University in 2012. She quickly rose through the ranks and started working with creators, showrunners and writers including Tracee Ellis Ross of "Girlfriends" and "Black-ish," movie producer Andrew Lazar, comic book publisher Boom Studios and writers on hit series including Showtime's "Vida," Freeform's "Grownish" and The CW's "Crazy Ex-Girlfriend."

Chewse
Co-Founder and Chief Executive Officer
Tracy Lawrence is the Founder and CEO of Chewse, a service that delivers family-style meals to offices from the best local restaurants. Tracy has raised $30 million for her company and feeds thousands daily.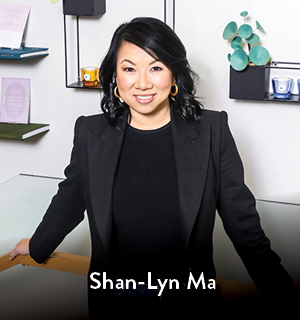 ZOLA
Co-Founder and Chief Executive Officer
Shan-Lyn Ma is co-founder and CEO of Zola, an e-commerce wedding company reinventing the wedding planning and registry experience by combining compassionate customer service with modern tools and technology. Shan-Lyn and Nobu raised over $140 million in investors to kick off their startup business idea. Fast forward a few years, Zola has helped half a million couples manage their guest and gift registry, matched them with wedding planners, and wedding vendors.

inDinero
Co-Founder and Chief Executive Officer
Jessica started inDinero back in 2010 to help entrepreneurs with all their accounting and tax needs. She designed Indinero for the typical small business owner, knowing that its usefulness and simplicity would change the way business owners look at money. The company has raised over $10 million to date and is growing rapidly.

South Philly Barbacoa
Chef
Chef Cristina Martinez has been living undocumented in the United States for over a decade. She is widely renowned for her specialty in Mexican-style barbecue, her advocacy for undocumented restaurant workers' rights, and her own publicly shared undocumented status. Cristina has been recognized by Zagat and James Beard. In 2016 Bon Appetit said she had "One of the best new restaurants in the country." Christina has appeared on Netflix's food and travel show "Ugly Delicious," several podcasts, and films to demonstrate not only her culinary skills but also advocate against the injustice to undocumented workers in the United States.

HCL
Executive Director and Chief Executive Officer
She became the CEO and Executive Director of the $8.6 billion global enterprise, HCL Corporation at the age of 28. Over the last few years, Roshni has spearheaded a diversification strategy for the IT services which expanded their business from just technology to include healthcare and infosystems. She is also the Chairperson and driving force behind VidyaGyan, a leadership academy for the meritorious but economically underprivileged, rural students of Uttar Pradesh.

Biocoin Limited
Chairman and Managing Director
Kiran Mazumdar-Shaw is a pioneer of the biotechnology industry in India, the founder of the country's leading biotechnology enterprise, Biocon, and India's richest self-made woman. In the face of skepticism and discrimination, she persevered with Biocon not only becoming the first Indian company to gain the approval of the U.S. Food and Drug Administration (FDA) for the manufacture of a cholesterol-lowering molecule but also being the first Indian company to export enzymes to the United States and Europe.

Chicago Cook County State's Attorney's Office
Policy Advisor
In 2017, Michelle was awarded Crain Chicago's Business 20 and elected as Township Trustee in Oak Park, Illinois which oversees the Community Mental Health Board, and provides youth and senior services. While staff attorney at Shriver National Center on Poverty Law, Michelle Mbekeani authored a report on harmful policing policies in Chicago Public Schools that resulted in a new state law dictating training procedures.

Flyrobe
Co-Founder and Chief Executive Officer
Shreya Mishra is the founder & CEO of Flyrobe - India's largest online fashion rental service. She partnered with two of her fellow IIT Bombay peers to launch the online fashion platform, which raised $1.7 million in seed funding from Sequoia India. Particularly popular for wedding fashions, Flyrobe partners with designer labels to offer designer wear on rent at 15 percent of the retail price.

Code2040
Vice President of Programs and Chief Executive Officer
Karla Monterroso is committed to closing the opportunity gap for Black and Latinx people in the United States by creating pathways to educational, professional, and entrepreneurial success in technology. Since joining Code2040 in 2014, Karla has grown the number of students being served from 25 to 4,000, ushered in several new successful programs, and stewarded critical organizational development practices and policies around values and racial equity. Her successes have landed her in publications such as Fast Company, NPR, and Bloomberg.

HelloAva
Co-Founder and Chief Executive Officer
Siqi Mou is the co-founder and CEO of HelloAva, an AI-powered personal skincare consultant that customizes a routine of curated products for customers. She and her co-founder have raised $1.5 million. Siqi has been recognized on the Forbes 30 under 30 in consumer technology.

Abbott
SVP Quality, Regulatory and Engineering Services
Corlis is one of Business Insider's most powerful female engineers of 2018, on the Crain's Chicago Business Tech 50 2018 list and has been named a "STEM Champion for Women and Girls" by Working Mother magazine. Throughout her almost 30-year career, she has been an advocate for increasing diversity in STEM and bridging the gender gap. Eight years ago, she founded a high school STEM internship at her company for underrepresented students to expose them to engineering. Mentoring students at a young age is critical; she encourages other companies to do the same.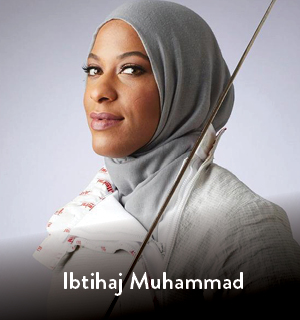 Team USA
Sabre Fencer
In 2016, Ibtihaj Muhammad became the first Muslim woman to represent the United States at the Olympics wearing a hijab. She's the first female Muslim-American athlete to win an Olympic medal taking home the bronze in the women's team sabre event at the Summer Games in Rio de Janeiro. Inspiring young women everywhere, in November 2014, Mattel unveiled a new Barbie doll in Ibithaj's likeness, the first doll in Barbie's history with a hijab. Ibtihaj is sports ambassador with the U.S. Department of State's Empowering Women working closely with organizations like Athletes for Impact and the Special Olympics. She's been recognized on Time Magazine's "100 Most Influential" list.

Minted
Founder
Mariam founded Minted, an online design marketplace that has products in 70 million homes. In 1998, Naficy co-founded Eve.com, the first major online retailer of cosmetics which was sold for over $100 million. Mariam sits on the Board of Yelp and Every Mother Counts.

BRIC
President
Kristina Newman-Scott is the president of BRIC, the leading presenter of free cultural programming in Brooklyn. Newman-Scott, a painter, curator, and arts administrator from Jamaica, was previously the director of culture and state historic preservation officer for Connecticut, the first immigrant and the first woman of color in that post.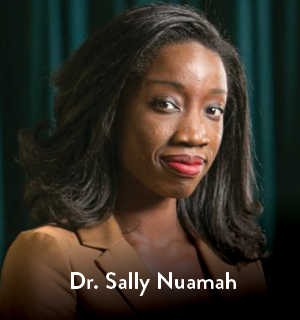 Northwestern University
Professor, Advocate, Filmmaker
While at Northwestern, she became the first Excellence Through Diversity Predoctoral Fellow in political science at the University of Pennsylvania. Professor Nuamah's first book, How Girls Achieve (2019), looks across race and gender and illuminates the unequal costs that poor black girls in the United States, Ghana, and South Africa bear while striving to achieve. Professor Nuamah is the creator of the documentary film HerStory which was named "Best Documentary Short" by PBS and is currently distributed by the Discovery Channel. She is the founder of the TWII Foundation, an award-winning organization that provides girls with scholarships so they can be first in their families to go to college. Alex

US Government
US Representative for New York
In 2018, Alexandria Ocasio-Cortez made history when she not only defeated 10-term Congressman Joe Crowley in the primary election but also won the general election becoming the youngest woman ever elected to Congress.

US Government
US Representative of Minnesota
In 2016, Ilhan became the first Somali-American, Muslim legislator in the United States in the Minnesota House of Representatives. Ilhan has been serving as the U.S. Representative for Minnesota's 5th congressional district since 2019.

Food52
VP, Digital Marketing
Grace leads growth and lifecycle marketing for Food52. Before making her way to food, she spent over a decade in various digital roles at fashion, beauty, and lifestyle media brands including GLAMSQUAD and Birchbox — but her heart has always been in the kitchen. Based in NYC where she's been for 12 years in her chosen home of Harlem, she's a Jersey-native and proud daughter of Kenyan immigrants born and raised in an ethnically diverse community. She's lived and studied in South Africa and lived and worked in Spain. Her multicultural perspective is a key part of her customer-first marketing philosophy and her view on the unique power of food in building cross-cultural connections.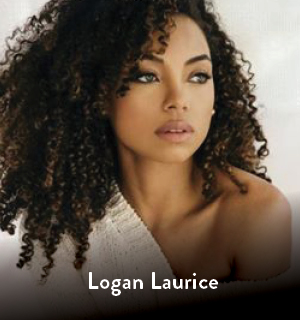 Actress
Logan Laurice is one of Hollywood's rising stars. The actress has been featured in several movies and TV sitcoms. She is most popularly known for her role as Samantha White in the Netflix hit series, Dear White People.

Sundial Brands
Chief Operating Officer and Branding Officer
Paige is a seasoned executive with more than 20 years of brand, innovation, and general management experience and a proven track record of building billion-dollar brands and businesses. She was offered a newly created position at Sundial as Chief Operating and Brand-building Officer. Kimberly plays a leading role in the management of the New Voices Fund, which is a $100 million investment fund to support Women of Color entrepreneurs.

National Domestic Workers Alliance, Caring Across Generations, Supermajority
Director, Co-Director, & Co-Founder
Under her leadership, domestic workers won eight state Domestic Workers Bill of Rights and federal overtime and minimum wage protections for more than two million home care workers. She is an award-winning organizer, thought leader, and social innovator, and a leading voice in the future of work and family care solutions. Her work has been featured in The New York Times, the Washington Post, TIME and CNN.com. She is the author of The Age of Dignity: Preparing for the Elder Boom in a Changing America. She is the author of The Age of Dignity: Preparing for the Elder Boom in a Changing America.

PepsiCo
EVP of Global Operations
She has held leadership positions in several Fortune 500 companies, including United Airlines and Kraft Foods. After joining PepsiCo in 2010 as chief procurement officer, Ms. Puma has been highly regarded as a strategist. In 2016 she became the Executive VP of Global Operations, the highest-ranking Latina at PepsiCo.

Shondaland
Screenwriter, Television Producer
Shonda Rhimes is not only an award-winning writer/director/producer but also the first African-American woman to create and executive produce a Top 10 network series—the long-standing medical drama Grey's Anatomy.

Actress
Antoinette Robertson is an American actress. Known for her roles in Zero Hour (2013), The Haves and the Have Nots (2013), and currently in her role as Coco Conners in the Netflix series Dear White People (2017).

Actress & Singer
Amber Riley is an American actress and singer best recognized for playing Mercedes Jones in the comedy series 'Glee'. For her performances on and off screen she has won the Screen Actors Guild Award, Laurence Olivier Award for Best Actress in a Musical, and more.

Unsun Cosmetics
Founder
Katonya Breaux founded skin care company, Unsun Cosmetics in 2016. Unsun Cosmetics was created to provide clean, no-residue sunscreen options that were kind to the person using it as well as the environment it's being used in.

Away
Co-founder, President and Chief Brand Officer
She helped to revolutionize the travel industry. Jen worked as the head of social media at Warby Parker, where she met her co-founder Steph Korey, and served as the global director of innovation at fashion company, AllSaints. This dynamic duo has raised over $81 million and are using their cultishly loved suitcases to build an entire travel brand.

Mayfield Fund
Venture Capitalist
Priya was a founding member of M12 Ventures, preceded by experience working for Square and UBS. During her three years at M12, one of her six investments, Bonsai (deep reinforcement learning platform) was acquired by Microsoft. She has also helped launch M12's female founder's competition as part of her mission to make access to capital easier for underserved female entrepreneurs.

Actress
Courtney Sauls is an American actress that portrays Wild in the film Dear White People and Brooke in the Netflix series Dear White People. She has also appeared in several TV series including 9-1-1. Am

Leap Year
Founder and Executive Director
Amber believes higher education should be open to everyone, regardless of income level. She uses education every day to create what she calls "an army of changemakers." Amber founded Leap Year, a non-profit organization that's mission is to prepare young, talented students to reach their academic and leadership potential in college. She's been the winner of WeWork's 2017 Incubate Creator Award and Black Enterprise's "25 Black Women Who are Changing the World."

Ginkgo Bioworks
Co-Founder
Reshma is a co-founder of Ginkgo Bioworks, an organism design company building organisms to spec for customers across markets including nutrition, health, and consumer goods. In 2008, Forbes magazine named Shetty One of Eight People Inventing the Future and in 2011, Fast Company named her one of the 100 Most Creative People in Business.

Haati Chai and Amarilo
Co-owner
Stella Simona is the co-owner of two jewelry lines, Haati Chai and Amarilo, that celebrate her Bangladeshi heritage and are inspired by her experiences growing up as the daughter of East Indian immigrants in the United States.

Cosme & Atla
Chef
Daniela runs New York City's top modern Mexican restaurants Cosme and Atla. She earned a StarChefs Rising Stars Award in 2015 and the James Beard Award for "Rising Star Chef" the following year. Cosme was named one of San Pellegrino's "World's 50 Best Restaurants" in 2017. In 2019 she was named the World's Best Female Chef.

Supreme Court of the United States
Associate Justice of the Supreme Court
Sonia fearlessly became a U.S. District Court Judge in 1992 and was elevated to the U.S. Second Circuit Court of Appeals in 1998. In 2009, she was nominated by former President Barack Obama as the first Latina Supreme Court justice in U.S. history.

Verizon
Chief Corporate Social Responsibility Officer
As Chief CSR Officer, Rose also serves as President of the Verizon Foundation and leads a team focused on the programmatic delivery of mobile and cloud technology to underserved populations around the globe. She has served as a lecturer, panelist, and guest speaker on a myriad of topics including mobility in education, women in the workplace, and the role of corporations in creating a sustainable future.

Vimeo
Chief Executive Officer
Anjali Sud is an Indian American businesswoman. At 34 years old she became CEO of Vimeo, the world's largest ad-free online video platform dedicated to empowering creators. She oversees the growth of Vimeo's community of over 90 million video creators, filmmakers, and brands using Vimeo to upload and share their work.

Memorial Hermann-Texas Medical Center and TIRR Memorial Hermann
Physiatrist
Dr. Verduzco-Gutierrez's cares for outpatients and inpatients recovering from traumatic brain injury, stroke and neurotrauma. She is a specialist in the management of patients with spasticity of cerebral or spinal origin and can assess, diagnose and treat interventionally if necessary. She does neurotrauma consults at a level one trauma center, trains medical residents and students, and has won awards for clinical and teaching excellence. She is a leader in educational planning, serves on several academic and hospital committees. She is also the program director of the Brain Injury Fellowship Program.

HTC
Co-Founder and Chairwoman, Philanthropist
Cher Wang is co-founder and chairwoman of HTC and VIA Technologies, a company that develops silicon chip technology. She is a Taiwanese entrepreneur and philanthropist considered to be one of the most powerful and successful women in technology.

Actress
Bresha Webb is an actress, comedian, and philanthropist. She began her career in Hollywood in 2007, when we got to know her on the sitcom "Love That Girl!" co-starring Tatyana Ali. She has worked with organizations such as the Black AIDS Institute and Dress for Success.

All Turtles
Vice President
Bärí is VP of Legal, Business, and Policy Affairs at All Turtles, a startup advisor in the tech industry, and published author in the New York Times, WIRED, Fortune, and Fast Company. In 2016, she took on the passion project of creating and implementing Facebook's Supplier Diversity Program and currently serves as an advisor to startups in the enterprise and e-commerce space.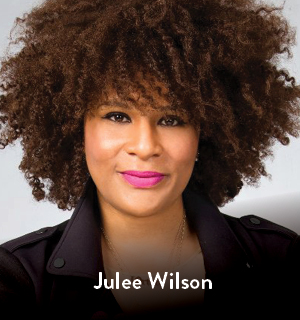 Essence Magazine
Global Beauty Director
Julee oversees the media outlets vision and manages a team of editors and freelancers in the creation of fashion and beauty content for ESSENCE Magazine and ESSENCE.com. She helps lead programming for the annual Beauty Carnival at ESSENCE Festival. If you haven't seen her various work with ESSENCE, you've seen her writing appear in InStyle, Conde Nast Traveler, The Business of Fashion, and The International Journal of Fashion Studies.

SOHO China
Chief Executive Officer
Zhang Xin is one of the biggest business magnates of China. With her husband she co-founded SOHO China in 1995. It is listed on the Hong Kong Stock Exchange and SOHO China is presently the biggest real estate developer in Beijing.

Malala Fund
Activist
Malala is a Pakistani activist for female education, a 2011 nominee for the International Children's Peace Prize, a 2011 winner of Pakistan's National Youth Peace Prize and in 2014 she became the youngest Nobel Peace Prize laureate at just 17 years old. Her unwavering courage and continuous activism for children's education, even under life-threatening circumstances, make her a hero in all of our eyes.